Launched in 2011, WeChat has grown from a messaging app to become a unique social media hybrid. Services like Facebook are banned in China, so WeChat is the standard for business and communication. With over a billion users, WeChat is one of the most popular applications in the world. If you're looking to succeed in the Chinese marketplace, WeChat is a significant factor for digital marketing.
How It Works
One of the primary uses of WeChat is messaging. Just like WhatsApp, you have a list of conversations that you're engaged in. Each WeChat user has a unique barcode known as a QR code. One person can scan the other user's QR code to add them to WeChat. You can also use a phone number or ID to add a person and search for people nearby. WeChat is one of the main methods of communication in China. Even when doing business, people prefer WeChat to email. It's even more prevalent because services like Facebook are blocked in China.
Users can also make payments through the application. From major supermarkets to the smallest of street vendors and taxis, you can pay for things with WeChat almost anywhere in China. As long as you have a Chinese bank account, you can link that to WeChat. The store can scan your unique WeChat barcode, or you could scan the barcode of the merchant you are buying items or services from. If you're buying something online in China, there will be an option to purchase with WeChat Pay.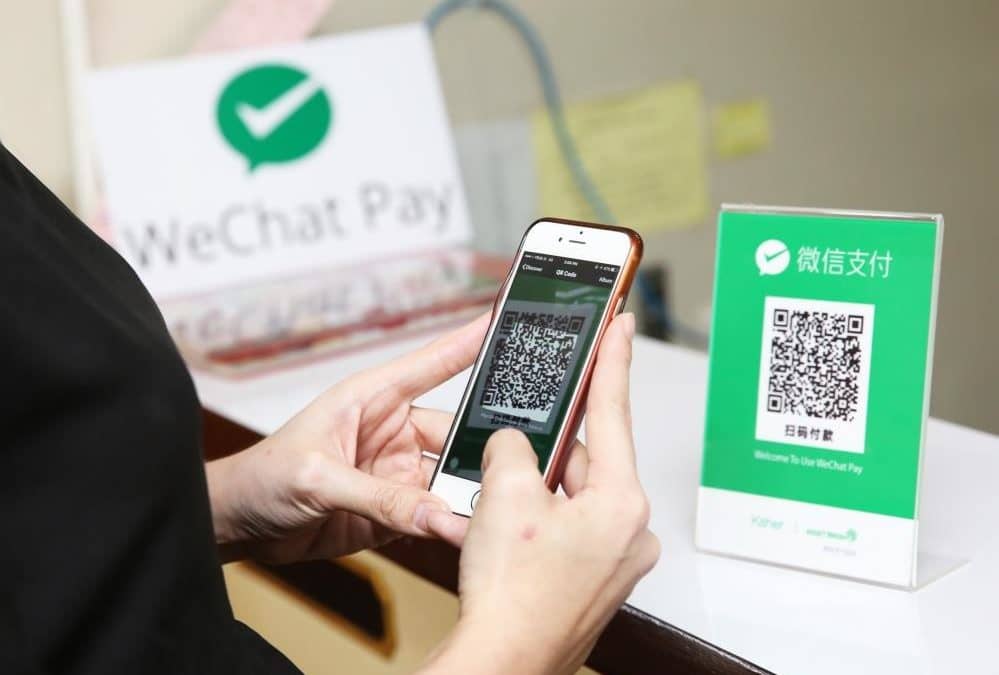 Instant money transfers to your WeChat contacts can also be made via the messaging function, which makes it easy to split bills or just move money around China. It is possible to be nearly cashless in China and actually go out for the day without a wallet.
WeChat has been described as a "super app" because everything is integrated within one service. Instead of having one app for banking and another for ride-hailing, a lot of these are built directly into WeChat so that the app becomes a one-stop-shop for its users. Companies may choose to launch mini-programs — or apps within WeChat — instead of a standalone app. The program allows businesses to send promotional messages directly to the user via WeChat, as well as tap into the app's user base of more than one billion.
There are several other things you can do via WeChat from wealth management and topping up your mobile phone to playing games within WeChat. WeChat supports the basics like voice chatting, picture messaging, and video calling. You can also share your real-time location with friends, play mini-games with each other, and post to a Story-like feature called "moments."
Why should you consider WeChat for Marketing?
Is your business looking to raise brand awareness or drive direct customer engagement with Chinese-speaking audiences? Whether you want to enter the China market or reach out to Chinese tourists (who are considered the biggest spenders in the world), the most effective tactic is to adopt the region's most popular multi-purpose app: WeChat. While other social media platforms might be part of your digital marketing strategy, WeChat is an application to consider as well, especially if you want to increase brand awareness and engage with your Chinese-speaking customers. Here are three reasons you should consider WeChat for your business
1. Massive Reach
With 1.09 billion monthly active users (70 million of whom are from outside of China), you can't ignore the massive reach of this platform. In addition to being enormously popular in China, WeChat has also penetrated the U.S. and U.K. markets and is growing at a rapid rate. The app currently supports over 20 languages and that number is expected to increase over time.
2. One-of-a-Kind Lifestyle Platform
Calling WeChat China's WhatsApp or Facebook would be inaccurate—it's a lot more than that. As explained above, it's a one-of-a-kind lifestyle platform that has several apps rolled into one. With the ability to connect to 85,000 other apps, WeChat has formed a strong ecosystem of its own. What started off as a messaging app has now taken over every aspect of life in China. From shopping online and paying bills to playing games and making video calls, WeChat happens to be the go-to app for almost everything. This allows marketers to gain insights from valuable consumer data, understand which life stage consumers are at, and target them with personalized communication.
WeChat is constantly innovating and presenting exciting new features to connect brands and customers. One such feature is the Shake function, which lets offline businesses interact with mobile users who are nearby.
WeChat is a promising marketing tool for business and has great potential to deliver branded content and engage with Chinese-speaking consumers. With its growing penetration rate and various advertising vehicles, it works for many international brands as well as small- to medium-sized businesses outside of China looking to reach out to consumers there. Are you considering using WeChat to connect with customers in China?
Get in contact with one of our digital marketing consultants to discuss your marketing needs.