If you wanted to sell concessions at a sports match, where would you set up? In your car? At home? You'd probably look for a spot right outside the stands, to ensure that the most people possible would walk past your offerings and have the chance to buy from you. This principle, of ensuring you're optimally positioned for your customers, is a timeless business practice- go where the customers are. Where are customers now? Online. According to Google, 88% of consumers use their devices to search for local businesses online.
Does this mean you need a website or a rigid social media presence? Well, it's never a bad idea to have a website, and at a certain point in your business growth these tools are optimal to get your business to the next level, but no, not necessarily. When you're starting out with a limited budget in a B2C in-person business, you can use the free tool that Google offers to let people know you're in business.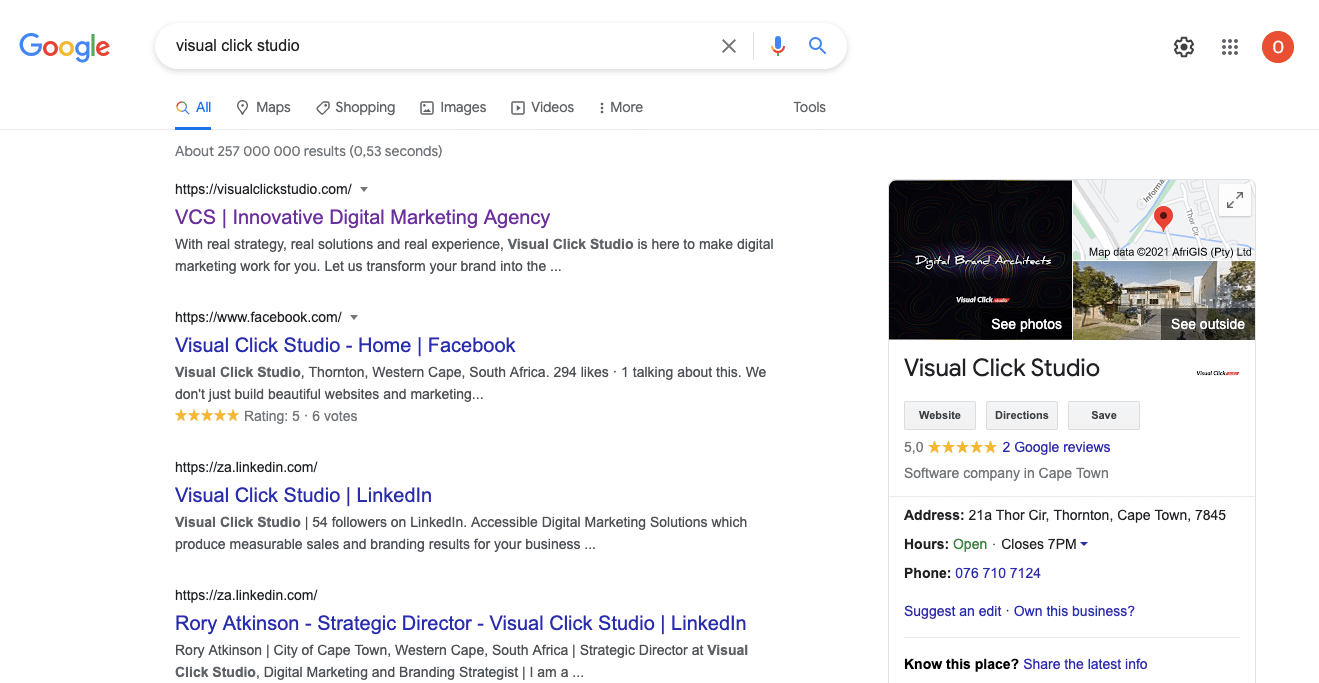 A Google business listing is a free tool that you can create to help your business rank higher in local searches and get chosen by more customers. It's a great tool that's important to set up and maintain. The more active you are on the platform, the more signals you send to Google that your listing is accurate and trustworthy. The more Google trusts you, the higher you will rank on Google Maps and the local section of Google search.
Start by choosing a category when you set up your business profile (Google My Business). By doing this you enable google to recommend you in relevant searches. In fact, Google data shows that up to 50% of people who search for businesses on their devices (particularly their mobile phones) end up at its physical location, increasing traffic to your store and boosting sales.
We speak a lot about SEO on our blog, and it's truly an important tool to ensure discoverability for your business online. If you don't have a large online presence, having an updated Google listing is one small way you can boost your SEO.
Your Google listing is not just great for attracting customers, but it also allows other platforms to learn more about your business. There are countless apps and directories that exist to direct people to locations that they're looking for. These platforms, in turn, use search engines to gather and maintain up-to-date information.
Having a Google business listing will do nothing to benefit your business unless it is accurate, consistent, and up to date. Do your job of maintaining your business listing so that Google can do its job of helping to get your business found by the people looking for it. More information for more people means growth for your business and more happy customers!
How to Get Started
Search for your business in Google Maps
Select your business
Select "Claim this business"
If you created the listing, you can click "claim" and get instant access to your profile
If you did not create the listing, you will have to verify ownership through mail, phone call, or email
If you want to update your Google listing:
Log into your Google My Business account (go to google.com/business and make sure you're logged into the Google account you created for your business).
Select "Info"
Select the section you want to edit
Select the pencil icon to add or edit
Make your edits
Select "Apply"
There are many reasons to update your Google listing, including business relocation (or multiple locations), inaccurate business information (e.g. your business hours are listed incorrectly), adding/changing a phone number, adding/changing a business category, and editing attributes, to name a few.
Information you cannot change or edit includes reviews, editorial summaries (this is created by google writers), or keywords. If you believe a review is malicious or false, you can however report it and Google will investigate.
So there you have it. Google Business listings are a great way to get your small business out there and increase your traffic and sales. It's easy (not to mention, free) to use and is a great way to get your business in front of customers.
To learn more about SEO and chat about your business's online presence, please get in contact with one of our consultants.